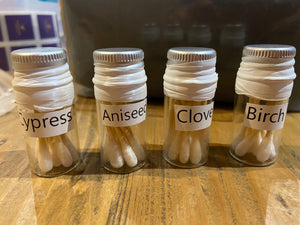 Wildhunde Scent Kit Pre-Scented Cotton Buds - Short Dated Scents
All Essential Oils have a best before date, as we strive to only have the highest quality scent kit supplies available, these are too close to, or slightly past their best before date. This means the odour is not as strong as when fresh, making it lower quality. 

Ready to start your dog on their sniffing journey or looking to simply refill your existing scent kit for Nosework? Our Wildhunde Scent Kit Pre-Scented Cotton Buds are ready to use with your existing hides to start training. All cotton buds are scented with our range of fresh pure essential oils and come with a pair of clean metal tweezers.

Cotton Buds are in glass tubes with no stick scent free tape sealing them.
Cypress Oil
Birch Oil
Aniseed Oil
Clove Oil
If you are after further education on how to best utilize ours or any other Scent Kit, we recommend joining one of the below scent or nosework courses!
https://www.tateanimals.com/scentdetection

https://www.fenzidogsportsacademy.com/10-course-descriptions/15-nw101-introduction-to-nosework

https://www.austinsdogtrainingeducation.com.au/steves-scent-detection-training-course-sdtc/
Information on the official K9 NoseWork sport in Australia 
https://acsw.com.au
Rules for official ANKC ScentWork trials
http://ankc.org.au/media/9409/21-canine-scent-work-rules-01-07-20.pdf