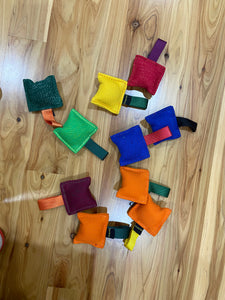 Wildhunde Play and Bite Mini Puppy Pillow and Flirt Pole Attachment
Our Play and Bite Mini Puppy Pillows may be small but they are an ultra-strong, fun and interactive tug toy, made for fun play with your dog! Ready to go, these mini puppy pillows just need to be attached to a rope or flirt pole, and you're set for a game of tug in the backyard. 
These bite pillows are handmade in the USA using high-quality, extra heavy nylon thread, French flax linen (a natural fiber) and filled with a medium-firm stuffing; so they are strong and durable. They are the perfect size and firmness for starting out puppies and small breeds to grip, but made for a full mouth bite! Even better, flax linen is soft on the mouth and easier to grip for the pups that still have their L plates in tug time.
With a small nylon tab attached, it's super easy to attach your mini puppy pillow to your existing flirt pole or line for a variety of fun games with your dog. Choose from a range of colours to suit you and your pup; and get ready to for some fun!
Details:
Size - 3in x 3in
Made from French linen, a natural fiber made from the flax plant.
Suitable for puppies to small breeds
*Exact size can vary as each item is handmade.
Important Note:
All handmade tugs and ball tugs are designed for 'play and put away'. These toys are tools designed to be used under interactive, adult supervision only. For best results and longevity of your tug, ensure you put it out of reach when not in use, and take it out only for interactive play. With correct use, your dog should not have any opportunity to chew or destroy the toy. Any repair claims made will be subject to assessment of usage.